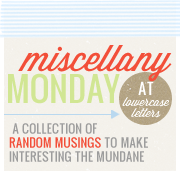 1. i had the privilege of spending just over 24 hours with my beautiful sister this past weekend. it's the first time we have spent time together for oh so long. we talked non-stop for hours. we indulged in our shared, but crazy obsession with stationary. we simply enjoyed being sisters.
2. my aformentioned sister finally got me joined up to what i'm predicting will be a wonderfully, inspirational time-waster for me. pinterest. it's been there calling my name for a while now, but i've resisted, just in case it required more time than i was willing to give it. now i'm hooked.
3. it's hot, hot, hot in this part of the world, these days. summer is approaching fast. in fact it's well and truly here, in full force. i'm so thankful for air-conditioned coffee shops and my boy to share a chocolate truffle with.
4. our christmas tree is shining and sparkling in our lounge room. candles on the coffee table and nativity scene on the piano. it's a time of year i enjoy so much. there is something about the traditions and memories which seem to say; take the days a bit slower, enjoy each day and make the time to do things together which we only seem to do once a year.
5. the simple pleasures. big kids with their little toys. a steam train ride through the bushland made for fun for young and old alike.